1) intended use
This product is used to inject insulin solution immediately after the injection of the human body。
2) main parts

1-needle hub; 2-"O" ring; 3-blade; 4-plastic arrow; 5-piston stopper; 6-piston;
7-barrel ;8-plunger
3). Classification
ClassⅡa, according to MDD Annex IX, rule 2
4). Product Specification
Size:3ML、5ML、10ML,with needles: 0.4mm、0.45mm、0.5mm、0.55mm、0.6mm、0.7mm、0.8mmm、0.9mm、1.1mm、1.2mm 。
5) Description of Packaging
PE/Blister individual package
6) Bill of material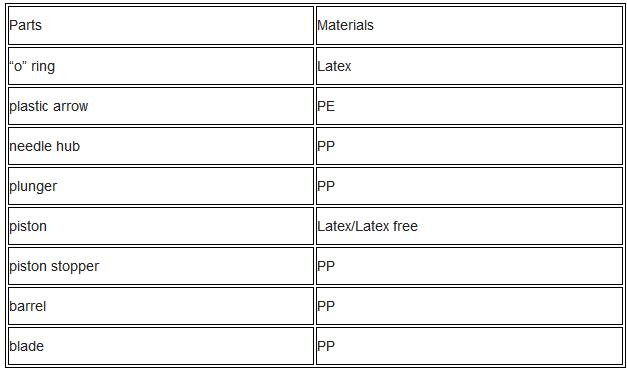 7)Contraindications:
No absolute contraindication.
8)Storage:
1. During transportation, the product shall be prevented from great pressure, direct sunlight and rain and snow;
2. The product shall be stored indoors with the humidity no more than 80%, without corrosive gas, cool, dry and well-ventilated.
9)Notice:
1、 Do not use if the package has been previously opened or damaged.
2、 Every access of the store room should keep clean and sterile.
3、 The validity sterilization period is 5 years.